OOPAC Surveys Legislative Candidates
2020 Candidate Questionnaire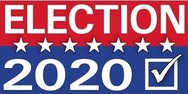 (October 2, 2020) The Ohio Osteopathic Political Action Committee (OOPAC), OOA's political arm, supports state legislators committed to protecting patient care by ensuring physicians serve as the leader in a team approach to medicine.
To assist OOA members with their choices in this year's election, OOPAC issued a candidate questionnaire with six issues of particular interest to DOs. The survey was emailed to all candidates for the Ohio House of Representative and Ohio Senate. The listings below include all candidates for the 16 Senate races and 99 House races. Click on the candidate name to view responses. If there is no link, the candidate hasn't submitted the completed questionnaire. The listings will be updated as questionnaires are received.
Election Day is Tuesday, November 3, but early voting starts October 6. To check polling hours and locations, go to the Secretary of State website.
Candidates for the Ohio Senate

| | | |
| --- | --- | --- |
| District | Candidate | Party Affiliation |
| 2 | Joel O'Dorisio | D |
| | Theresa Gavarone | R |
| 4 | George Lang | R |
| | Kathy Wyenandt | D |
| 6 | Niraj Antani | R |
| | Mark Fogel | D |
| 8 | Louis Blessing II | R |
| | Daniel Brown | D |
| 10 | Charles Ballard | D |
| | Robert Hackett | R |
| 12 | Matt Huffman | R |
| | Ken Poling | D |
| 14 | Terry Johnson | R |
| | Ryan Ottney | D |
| 16 | Stephanie Kunze | R |
| | Crystal Lett | D |
| 18 | Jerry Cirino | R |
| | Betsy Rader | D |
| 20 | Christian Johnson | D |
| | Tim Schaffer | R |
| 22 | Steven Johnso | D |
| | Mark Romanchuk | R |
| 24 | Matt Dolan | R |
| | Tom Jackson | D |
| 26 | Bill Reineke | R |
| | Craig Swartz | D |
| 28 | Michael Downey | R |
| | Vernon Sykes | D |
| 30 | Michael Fletcher | D |
| | Frank Hoagland | R |
| 32 | Sandra O'Brien | R |
| | Sean O Brien | D |
Candidates for the Ohio House of Representatives
| | | |
| --- | --- | --- |
| District | Candidate | Party Affiliation |
| 1 | Alison Theiss | D |
| 1 | Scott Wiggam | R |
| 2 | Sam Grady | D |
| 2 | Marilyn John | R |
| 3 | Laurel Johnson | D |
| 3 | Haraz Ghanbari | R |
| 4 | Christina Marie Halloway | Other |
| 4 | Bob Cupp | R |
| 5 | Daniel Winston | D |
| 5 | Tim Ginter | R |
| 6 | Phil Robinson | D |
| 6 | Shay Hawkins | R |
| 7 | Joan Sweeny | D |
| 7 | Thomas Patton | R |
| 8 | Kent Smith | D |
| 8 | Chris Litwinowicz | R |
| 9 | Janine Boyd | D |
| 9 | Dustin Russell | R |
| 10 | Terrence Upchurch | D |
| 11 | Stephanie Howse | D |
| 12 | Juanita Brent | D |
| 12 | Jerry Powell | R |
| 13 | Michael Skindell | D |
| 13 | Daniel Harrington | R |
| 14 | Bride Rose Sweeney | D |
| 14 | Lynn McMahan | R |
| 15 | Jeff Crossman | D |
| 15 | Kevin Kussmaul | R |
| 16 | Monique Smith | D |
| 16 | Dave Greenspan | R |
| 17 | Adam Miller | D |
| 17 | Tim Haske | R |
| 18 | Kristin Boggs | D |
| 18 | Kayla Packard | R |
| 19 | Mary Lightbody | D |
| 19 | Meredith Freedhoff | R |
| 20 | Richard Brown | D |
| 20 | Chris Baer | R |
| 21 | Beth Liston | D |
| 21 | Mehek Cooke | R |
| 22 | David Leland | D |
| 22 | Stephany Spencer | R |
| 23 | Nancy Day Achauer | D |
| 23 | Laura Lanese | R |
| 24 | Allison Russo | D |
| 24 | Pat Manley | R |
| 25 | Dontavius Jarrells | D |
| 25 | Jim Burgess | R |
| 26 | Erica Crawley | D |
| 27 | Sara Bitter | D |
| 27 | Tom Brinkman Jr. | R |
| 28 | Jessica Miranda | D |
| 28 | Chris Monzel | R |
| 29 | Harrison Stanley | Other |
| 29 | Cindy Abrams | R |
| 30 | Tom Roll | Other |
| 30 | Bill Seitz | R |
| 31 | Brigid Kelly | D |
| 32 | Catherine Ingram | D |
| 33 | Sedrick Denson | D |
| 33 | Mary Hill | R |
| 34 | Emilia Sykes | D |
| 34 | Henry Todd | R |
| 35 | Tavia Galonski | D |
| 35 | Jodi Sarver | R |
| 36 | Matt Shaughnessy | D |
| 36 | Bob Young | R |
| 37 | Casey Weinstein | D |
| 37 | Beth Bigham | R |
| 38 | Joe Campbell | D |
| 38 | Bill Roemer | R |
| 39 | Willis Blackshear Jr. | D |
| 39 | John Ferrell Mullins III | R |
| 40 | Leronda Jackson | D |
| 40 | Phil Plummer | R |
| 41 | Cate Berger | D |
| 41 | Andrea White | R |
| 42 | Brian Hyer | Other |
| 42 | Tom Young | R |
| 43 | Amy Cox | D |
| 43 | Rodney Creech | R |
| 44 | Paula Hicks-Hudson | D |
| 44 | Robert McMahon | R |
| 45 | Lisa Sobecki | D |
| 45 | Shane Logan | R |
| 46 | Michael Sheehy | D |
| 46 | Steven Salander | R |
| 47 | Nancy Larson | D |
| 47 | Derek Merrin | R |
| 48 | Scott Oelslager | R |
| 49 | Thomas West | D |
| 49 | James Haavisto | R |
| 50 | Brian Simeone | D |
| 50 | Reggie Stoltzfus | R |
| 51 | Sara Carruthers | R |
| 52 | Chuck Horn | D |
| 52 | Jennifer Gross | R |
| 53 | Michelle Novak | D |
| 53 | Thomas Hall | R |
| 54 | Morgan Showen | D |
| 54 | Paul Zeltwanger | R |
| 55 | Zach Stepp | D |
| 55 | Gayle Manning | R |
| 56 | Joe Miller | D |
| 56 | Bradley Lacko | R |
| 57 | Dara Adkison | D |
| 57 | Dick Stein | R |
| 58 | Michele Lepore-Hagan | D |
| 58 | David Simon | R |
| 59 | Chris Stanley | D |
| 59 | Alessandro Cutrona | R |
| 60 | Daniel Troy | D |
| 60 | George Phillips | R |
| 61 | Adam Dudziak | D |
| 61 | Jamie Callender | R |
| 62 | Erin Rosiello | D |
| 62 | Scott Lipps | R |
| 63 | Gil Blair | D |
| 63 | Mike Loychik | R |
| 64 | Michael O Brien | D |
| 64 | Martha Yoder | R |
| 65 | Alan Darnowsky | D |
| 65 | Jean Schmidt | R |
| 66 | Adam Bird | R |
| 67 | Rachael Morocco | D |
| 67 | Kris Jordan | R |
| 68 | Steven Mount | D |
| 68 | Rick Carfagna | R |
| 69 | Donna Beheydt | D |
| 69 | Sharon Ray | R |
| 70 | Kevin Barnet | D |
| 70 | Darrel Kick | R |
| 71 | Mark Carr | D |
| 71 | Mark Fraizer | R |
| 72 | Jay Conrad | R |
| 72 | Larry Householder | R |
| 73 | Kim McCarthy | D |
| 73 | Brian Lampton | R |
| 74 | Bill Dean | R |
| 75 | Randi Clites | D |
| 75 | Gail Pavliga | R |
| 76 | Garrett Westhoven | D |
| 76 | Diane Grendell | R |
| 77 | Melissa Wilde | D |
| 77 | Jeff LaRe | R |
| 78 | Charlotte Owens | D |
| 78 | Brian Stewart | R |
| 79 | Cynthia Richards | D |
| 79 | Kyle Koehler | R |
| 80 | Ted Jones | D |
| 80 | Jena Powell | R |
| 81 | James Hoops | R |
| 82 | Craig Riedel | R |
| 83 | Jon Cross | R |
| 84 | Joe Monbeck | D |
| 84 | Susan Manchester | R |
| 85 | Nino Vitale | R |
| 86 | Tiffanie Roberts | D |
| 86 | Tracy Richardson | R |
| 87 | Nicholas Barnes | D |
| 87 | Riordan McClain | R |
| 88 | Chris Liebold | D |
| 88 | Gary Click | R |
| 89 | Alexis Miller | D |
| 89 | D.J. Swearingen | R |
| 90 | Brian Baldridge | R |
| 91 | Scott Dailey | D |
| 91 | Shane Wilkin | R |
| 92 | Beth Workman | D |
| 92 | Mark Johnson | R |
| 93 | Jason Stephens | R |
| 94 | Katie O'Neill | D |
| 94 | Jay Edwards | R |
| 95 | Don Jones | R |
| 96 | Richard Olivito | D |
| 96 | Oscar Herrera | Other |
| 96 | Ron Ferguson | R |
| 97 | Alaina Swope | D |
| 97 | Adam Holmes | R |
| 98 | Todd Beegle | D |
| 98 | Brett Hudson Hillyer | R |
| 99 | Richard Dana | D |
| 99 | Sarah Fowler | R |